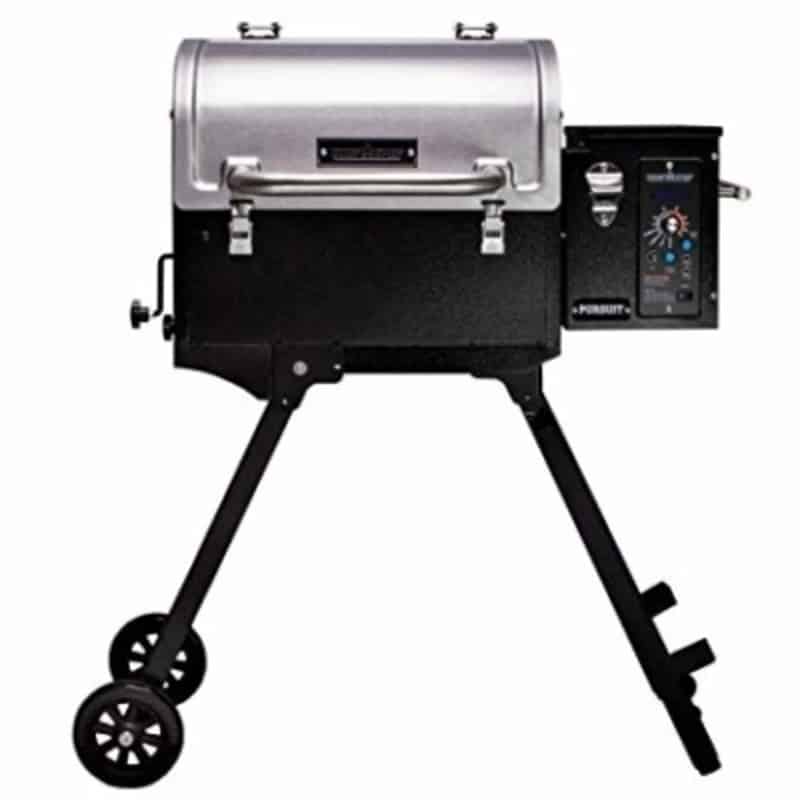 Here is a wood pellet grill that ensures highly convenient operation for all indoor and outdoor cooking needs.  Camp Chef Pursuit 20 Portable Pellet Grill has designed this to ease the meat preparation for busy homeowners, and the best news is that they can enjoy smoky flavor with indirect heating as well.
Camp Chef PPG20 Pursuit Portable Pellet Grill is loaded with efficient features, portable design and lever activated the searing function.
Description of Camp Chef Pursuit 20 Pellet Grill
You will be happy to hear that Camp Chef PPG20 Pursuit Portable Pellet Grill folds up instantly so that you can take it to the other places with ease. The sturdy wheels at the bottom of this grill make it easier to handle the appliance during outdoor parties.
Experts added lever activated the searing feature to this unit that allows flame generation directly from the internal firepot; it can easily rise to reach the grill grates. Note that, this unique feature is available with very few designs of modern age grills.
It means users can ensure easy settings for smoke or grill that is otherwise difficult with the simple products in the market.
The hopper of this grill has the ability to hold around 10 pounds of wood pellets. Moreover, the patented ash cleanout system added to this product makes it easy to handle for busy cooking hours. In this case, you can simply pull out the pan containing ash and dump the debris into a metal bucket.
This system also has advanced temperature controls with LED indicators. You can use a special type of probe thermometer to check the temperature while cooking meat. With this efficient measuring mechanism, you can ensure delicious taste for the food with perfect tenderness and juiciness.
What are Main Features of Camp Chef Pursuit 20 Portable Grill?
Watch this short but useful review video about Camp Chef Pursuit 20 to know if this grill fits you:
You can find here a list with 9 main features of this grill. I hope this helps you decide whether or not to buy this grill.
Portable pellet grill with new age slide and grill technology.
Maximum cooking space is somewhere around 501 square inches.
Convenient hopper capacity that goes up to 10 pounds.
Designed with locking lids, heavy duty wheels, and push-button folding legs.
The temperature range can vary somewhere between 160 degrees to 500-degrees F.
Seamless switching between direct and indirect flame broil with the slide and grill technology.
Customized cooking experience with easy controls.
Patented ash cleanout system that ensures satisfactory performance.
LED temp readout added for easy adjustment of internal food temps and internal cooking time.