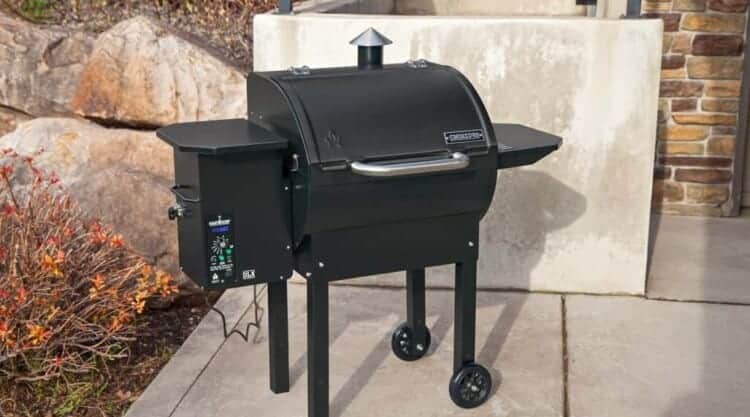 Camp Chef SmokePro DLX Pellet Grill is one of the best products from this famous brand. Even with the wide range of sophisticated features, this pellet grill is available with a reasonable price tag; hence, it appears the best choice for every home.
People love this pellet grill more due to its advanced ash removal system. Some of you may say that pellet grills do not produce much ash, but it is about time to understand that they demand routine cleaning and it becomes the biggest trouble for the busy homemakers.
Description of Camp Chef SmokePro DLX 24
Manufacturers have designed Camp Chef SmokePro DLX Pellet Grill with a trap door below the firepot; in this system, the bottom slides back perfectly so that ash drops directly into the removable cup. It means you need not spare additional time to clean this grill.
This unit allows maximum temperature variations somewhere between 160 to 500 degrees. Users can easily adjust ranges as per the unique requirements of their recipes. It is finished with a thicker body that appears little heavy weighted, but the best thing to know is that it is durable and ensures perfect heat retention.
Also, the sturdy legs with flexible tires make this grill more suitable for those who love to host parties in the backyard or garden. It can be easily taken in and out as per need. Users find it easier to use with the electronic auto ignition and hopper cleanout mechanism.
There are a side shelf that can easy cooking and the wider cooking space suits to the larger families.
What are Main Features of Camp Chef SmokePro DLX 24 Pellet Grill?
Watch this short but useful review video about Camp Chef SmokePro DLX 24 Pellet Grill to know if this grill fits you:
You can find here a list with 7 main features of this grill. I hope this helps you decide whether or not to buy this grill.
The maximum cooking area is 429 sq. inch with the second rack having 141 sq. inch space.
Cooking temperature ranges for this grill varies somewhere between 160 to 500 degrees.
Comes with patented ash cleanout cup and efficient vacuuming system.
Designed with advanced hopper cleanout system.
Manufacturers have added internal meat temperature probe.
It has built-in shutdown mode to ensure better functionality.
Side shelf included for easy cooking hours.