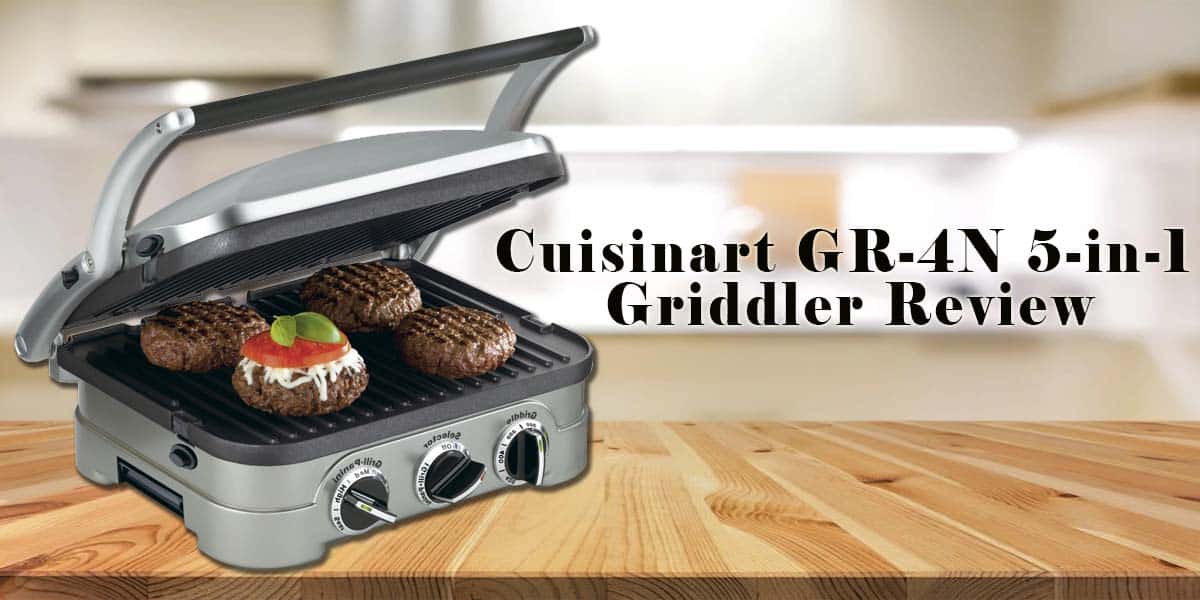 Cuisinart 5-in-1 Electric Griddler is probably the best companion for your kitchen that ensures a versatile cooking experience to all age groups.
It comes with five in one cooking functions that ensure easy handling of all dishes on its large 200 square inch cooking area.
The overall dimension of this griddler is 13.50 x 11.50 x 7.12 H inches, and it takes limited space in your kitchen as well.
Description of Cuisinart 5 in 1 Griddler
Cuisinart 5-in-1 Electric Griddler has five different cooking options include 1) Full Griddler for cooking pancakes, eggs, and bacon. 2) Contact Grill for preparing juicy steaks, chicken and hamburgers. 3) Full grill to double the surface area. 4) Half grill and half griddler to handle grilling and griddling simultaneously, and 5) Panini press styling.
The tiny size of this all-in-one unit makes it more suitable for indoor and outdoor event needs. Beginners find it easier to operate with the easy to handle and adjustable temperature controls whereas indicator lights ensure updates about current temperature range from time to time.
The various functional and innovative settings of this griddle ensure easy adjustments for cooking hours. Experts reveal that this tiny Griddler appears more like a commercial kitchen appliance that can serve all your routine cooking needs with ease.
At the same time, this griddler is loaded with special grease tray that handles all the mess during cooking hours. With this, it becomes easier to clean the area after cooking. Indeed, this griddle is the best choice for dwellers, college students, and bachelors as well.
What are Main Features of Cuisinart 5 in 1 Electric Griddler?
Watch this short but useful review video about Cuisinart 5 in 1 Electric Griddler to know if this grill fits you:
You can find here a list with 6 main features of this grill. I hope this helps you decide whether or not to buy this grill.
This 5-in-1 griddler can manage all your cooking needs ranging from Panini's to hamburgers and steaks as well.
Simple to use design with nonstick finish.
Removable, easy to manage, dishwasher safe plates.
The user-friendly and highly functional selector knobs assist in the easy adjustment of grill functions.
Dedicated indicator lights to highlight specific temperature ranges.
Designed with 5 unique cooking options to ease the process.