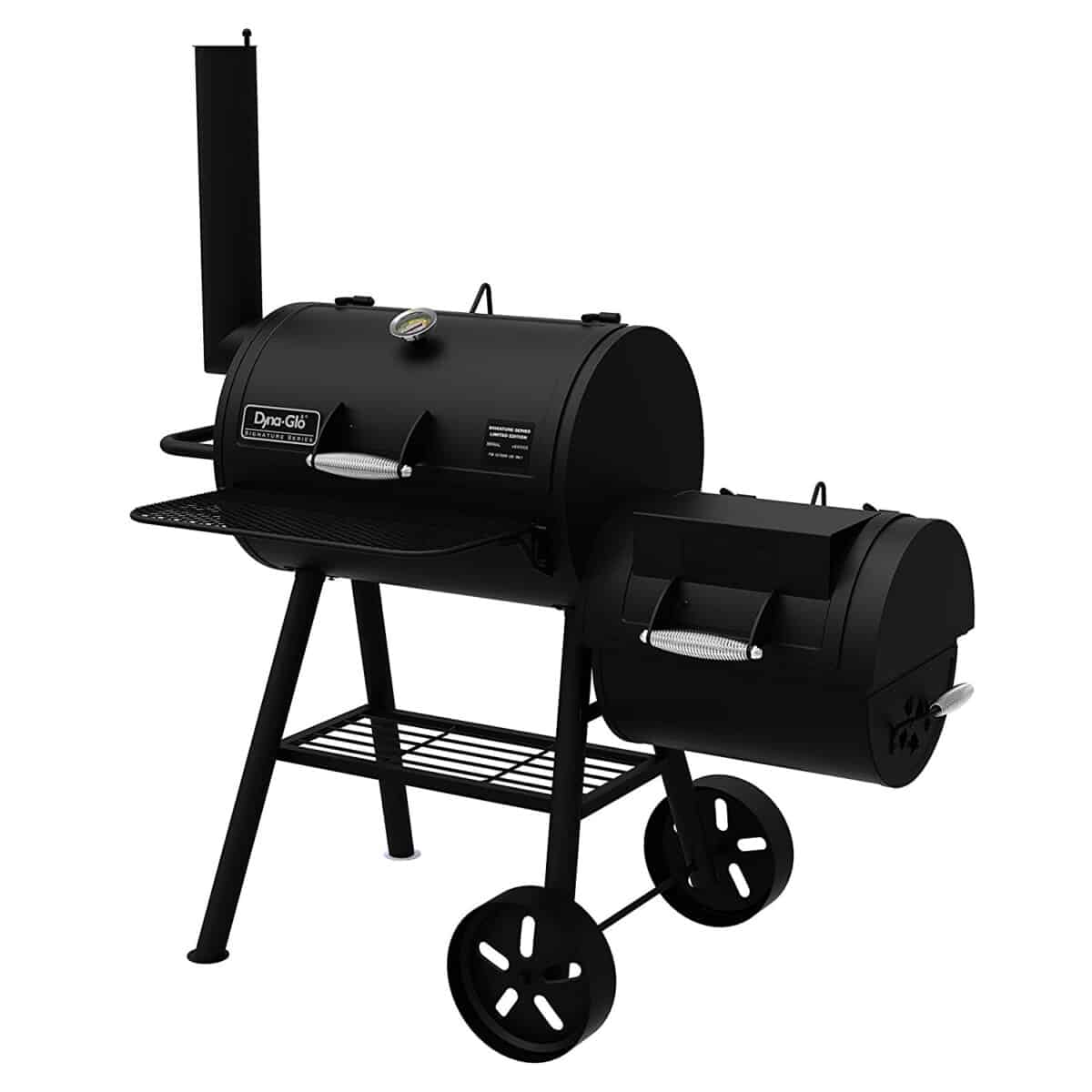 Charcoal grills that are finished in barrel style are one of the most classic options for outdoor cooking needs. The very first grill with such design was manufactured in the year 1950 and after that many big brands presented unique solutions to the buyers just like Dyna-Glo Barrel Charcoal Grill.
However, at present, one of the most considerable choice for barrel style grill in the market is Dyna-Glo Signature Series Barrel Charcoal Grill.
Description of Dyna-Glo Barrel Charcoal Grill
Dyna-Glo Signature Series Barrel Charcoal Grill appears pretty cool choice for every home with its midsized grill that carries a specially designed accessory smoker box with it. There is a large shelf on the front side of the grill that provides enough space for cooking without creating a mess around.
The hinges of this grill are much tighter that help to hold the smoke for a longer duration. So that you can enjoy the best flavor from food. The side firebox can allow you to second another fire for grilling in case you have more guests and need to prepare chicken breasts on medium fire.
Note that, the side firebox also has a side access coal tray; users can remove it instantly to ensure easy clean-up. Indeed, it makes this grill much suitable over many other competitors in the market.
The shelf is perfectly placed in the middle of the legs with secure welds and quality fasteners that ensure superior stability. The primary chamber for grilling has an overall space of 443 square inches. And that is enough space for a medium size family.
Moreover, the 287 square inches dimension of the side firebox can serve as a warming rack or secondary grill space. Another amazing addition to this grill is the pull-out type ashtray that ensures one-touch cleaning.
What are Main Features of Dyna-Glo Barrel Charcoal Grill?
Watch this short but useful review video about Dyna-Glo Barrel Charcoal Grill to know if this grill fits you:
You can find here a list with 6 main features of this grill. I hope this helps you decide whether or not to buy this grill.
Fast cleaning with a specially designed pull-out tray.
Larger cooking space; both primary and secondary cooking area come out to be 730 square inches in all.
Porcelain-coated cast iron grates provide satisfactory cooking experience.
Heavy-gauge steel body construction that ensures higher stability for outdoor locations.
Cool touch type spring lid handle that assists in trouble-free cooking.
Comes with oversized steel wheels that lead to easy movement on rough surfaces as well.