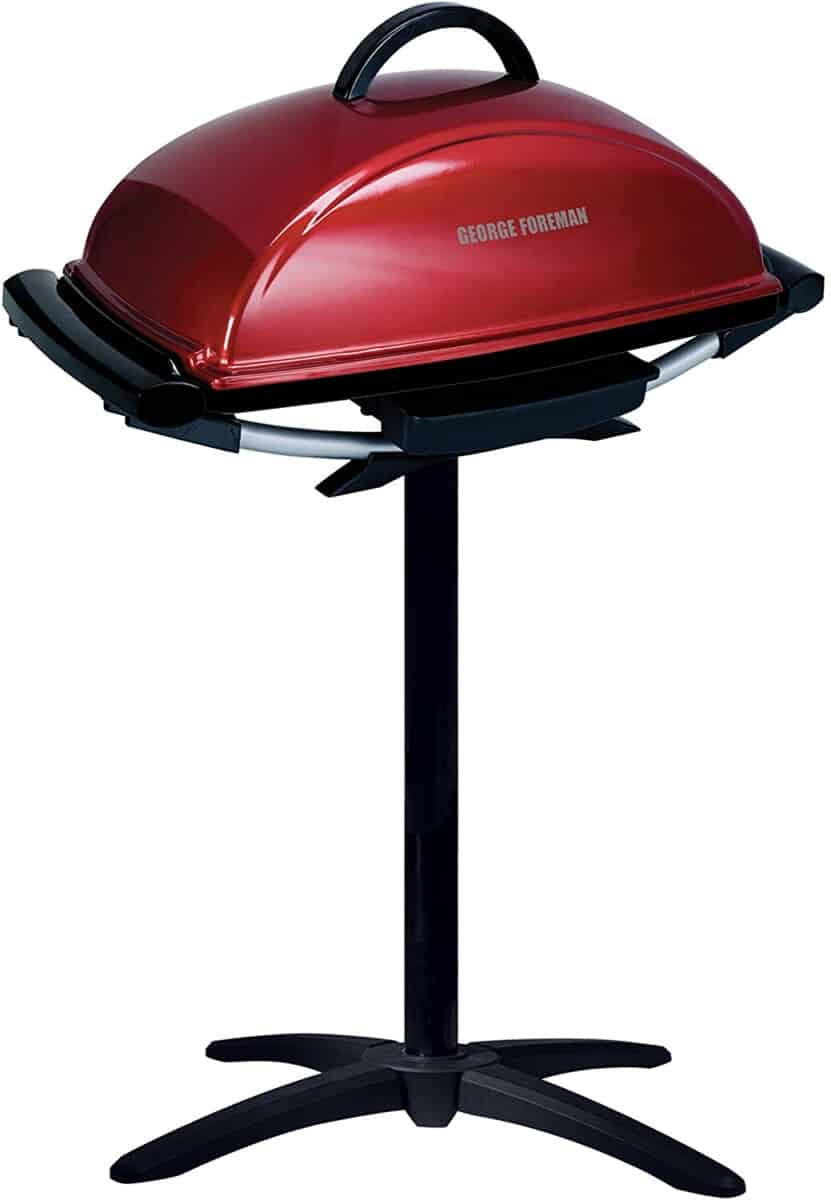 Are you planning to invite your friends to a party at home? You must be excited to serve them a delicious meal to make the party complete success. George Foreman 15-Serving Indoor/Outdoor Electric Grill can help you better in this regard.
You can use this attractive electric cooker as a freestanding grill by simply mounting it on the pedestal or you can also use it as a tabletop grill as per the party arrangements. It is designed with a non-stick cooking surface that is slightly intended towards the center portion so that grease can be easily channelized into the removable grease cup inside.
Description of George Foreman Electric Grill
It is easier to set the cooking temperature by using a dedicated dial controller that allows five different range of selection for the custom cooking experience. This feature allows grilled food lovers to enjoy precisely cooked meals.
You can easily use this grill to prepare burgers, appetizers, chicken, kababs, main course, and many desserts as well. Also, the cooking surface for this indoor/outdoor grill is dishwasher safe as well. It means homeowners need not make additional efforts for cleaning after serving the delicious meal to their friends.
The best thing to know about George Foreman 15-Serving Indoor/Outdoor Electric Grill is that it is designed to serve the families living in the tiny apartments as it ensures smoke-free cooking experience.
You need not to mess with the charcoal or propane; this simple to use and compact electric grill makes cooking more fun with the efficient cooking experience. And above all, you can use it indoors in the colder months and take it outdoors for the summer season.
What are Main Features of George Foreman Electric Grill?
Watch this short but useful review video about George Foreman Electric Grill to know if this grill fits you:
You can find here a list with 7 main features of this grill. I hope this helps you decide whether or not to buy this grill.
It allows users to prepare 15 servings with ease on its wide 240 square inch circular grilling surface
Users do not need to mess up with propane, charcoal, flare-ups, and smoke so this grill is suitable for the apartments
The electric system makes it easy to use for beginners as well
Comes with adjustable temperature control, you can choose between five precise temperature settings
Finished with a non-stick coating that makes it easy to clean and durable as well
Fat removing patented slope design that can help in the removal of more than 42% fat from tasty meals
Detachable stand, domed lid, and embedded heating elements