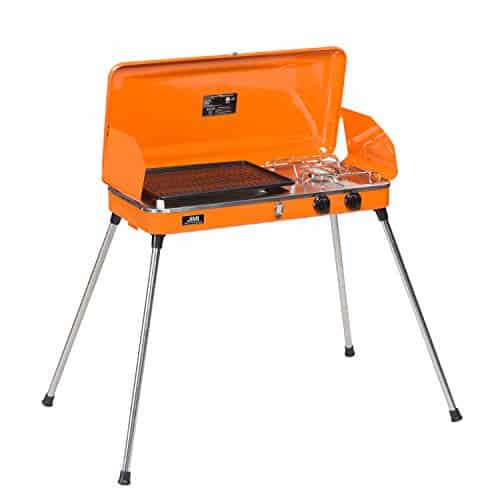 If you often love to go out camping with family and friends; you may need some handy and portable cooking accessories for your routines. To be honest, there is no need to carry the heavy grills anymore; you can now enjoy the fun cooking experience with KOOLWOOM Propane Grill.
Although, this portable grill looks simple; it is loaded with various advanced features that ensure versatile cooking experience. In addition, KOOLWOOM Portable Propane Grill is finished with independently adjustable burners that ensure precise control over both temperature zones.
Description of KOOLWOOM Propane Grill
KOOLWOOM Propane Grill is the perfect choice for all-purpose cooking needs. The stove surface can easily accommodate a 12-in pan whereas the grill area offers plenty of room with its 170 square inch dimension. Note that, the grill area and the stove both can be used at a time.
Also, this propane grill ensures the effective cooking experience with satisfactory fuel combustion process. The specially designed grease tray can collect the drippings to ensure clean cooking hours. Even more, this grill supports a variety of cooking styles with easy to adjust temperature ranges.
KOOLWOOM Portable Liquid Propane Grill comes with detachable legs, additional carrying handles and lockable lids that assist in easy transportation. Furthermore, maximum weight of this grill is 20 pounds only that make it easier to carry outdoors. At the same time, the non-stick coating makes it easier to clean whereas the detachable legs ensure easier transportation and storage.
The grill and stove share 20000 BTUs with easy to adjust cooking power range. The WindBlock panel is capable enough to shield the frame from wind during outdoor cooking hours.
What are Main Features of KOOLWOOM Propane Grill?
You can find here a list with 8 main features of this grill. I hope this helps you decide whether or not to buy this grill.
It comes with two burners and allows users to access the stove and grill simultaneously.
Finished with a specially designed heavy-duty grill box.
Durable grill grates made up of cast iron material; however, the entire unit has a strong powder coat finish.
Comes with 30-in high-pressure type propane hose along with the adapter.
This grill has also a collapsible design that ensures easy transportation.
Specially designed wind-block panels that provide perfect protection to the flame from wind.
Reliable grease management tray with removable grill pan; both are dishwasher safe.
Adjustable burners ensure better control over cooking.