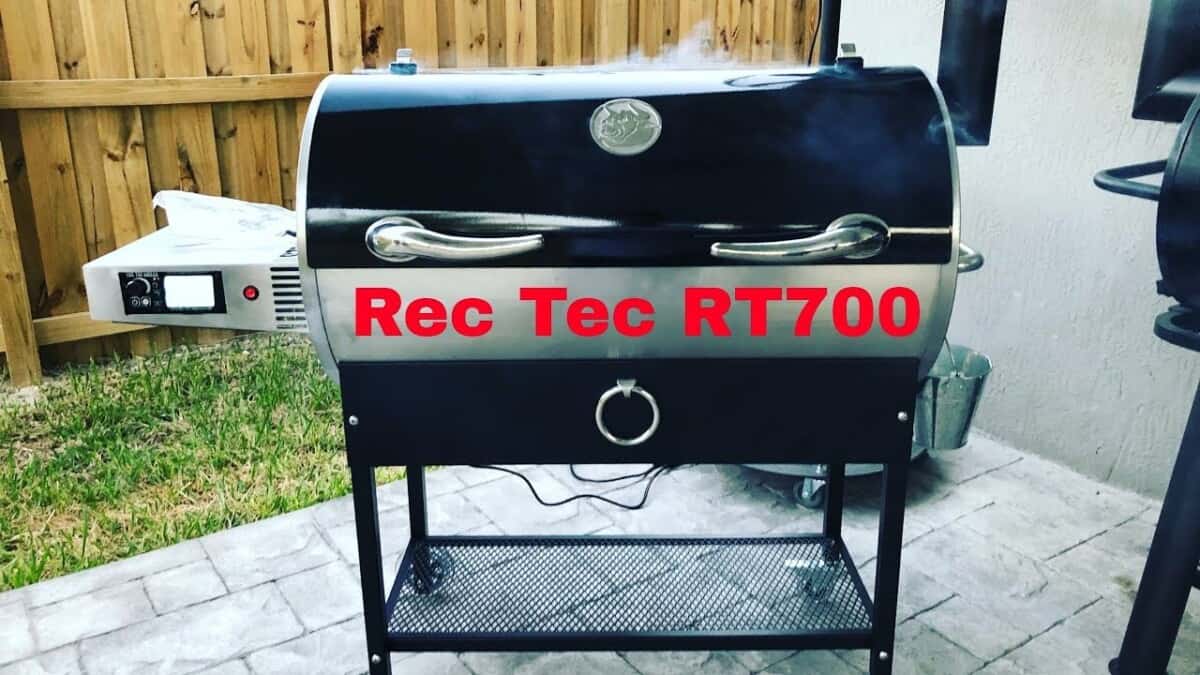 REC TEC RT-700 Pellet Grill is one of the top-notch pellet grills in the market that is popular for innovative and creative design.
This grill is designed using heavy duty stainless-steel material that makes it resistant to dust and rain as well. The Ceramic Ignitor Rod that lasts longer while ensuring satisfactory performance. There is 1054 square inches cooking area along with a useful second shelf.
Description of REC TEC RT-700 Pellet Grill
People love REC TEC RT-700 Pellet Grill grill more due to its natural hardwood pellet-based fuelling that provides smoky, deep and delicious flavor. There is no need to mess with the charcoal and other unsafe fire starters; the automatic system allows beginners to handle this grill with ease.
Moreover, as the system is heated through 100% natural hardwood pallets, you can ensure rich flavors without worrying about additional efforts. However, it is important to ensure that all the pellets are stored in the airtight container; otherwise they can suffer from moisture absorption issue.
The most amazing thing to know about this pellet grill is that it is the best functioning unit in the market that can be connected to a Wi-Fi system. The temperature dial is also smooth enough that provides straightforward readings.
Users can also download the REC TEC app on their gadget and connect this grill using a Wi-Fi system to monitor it through their smartphone or other gadgets. With different setting arrangements, it is easier to set this grill to roast, grill, broil, bake, smoke, sear and even dehydrate mode. The drip pan and bucket ensure easy cleaning services.
What are Main Features of REC TEC RT-700 Pellet Grill?
Watch this short but useful review video about REC TEC RT-700 Pellet Grill to know if this grill fits you:
You can find here a list with 8 main features of this grill. I hope this helps you decide whether or not to buy this grill.
Exterior dimensions of this pellet grill are 54"x54"x36" including chimney and hopper.
Made up of stainless steel material that ensures a sturdy and durable finish.
Large hopper ensures longer smoke times so that you can enjoy the best flavors.
This advanced grill has the ability to transfer pellets automatically from hopper to the firebox so that adequate temperature range can be maintained.
Designed with electronic temperature selection system that ensures instant adjustments.
The crisp and clear LED temperature display provides perfect readings to ensure better control over cooking.
It comes with a grease bucket that ensures easy cleaning without leaving stains on deck or patio.
Rollerblade-style wheels make it easier to roll around.