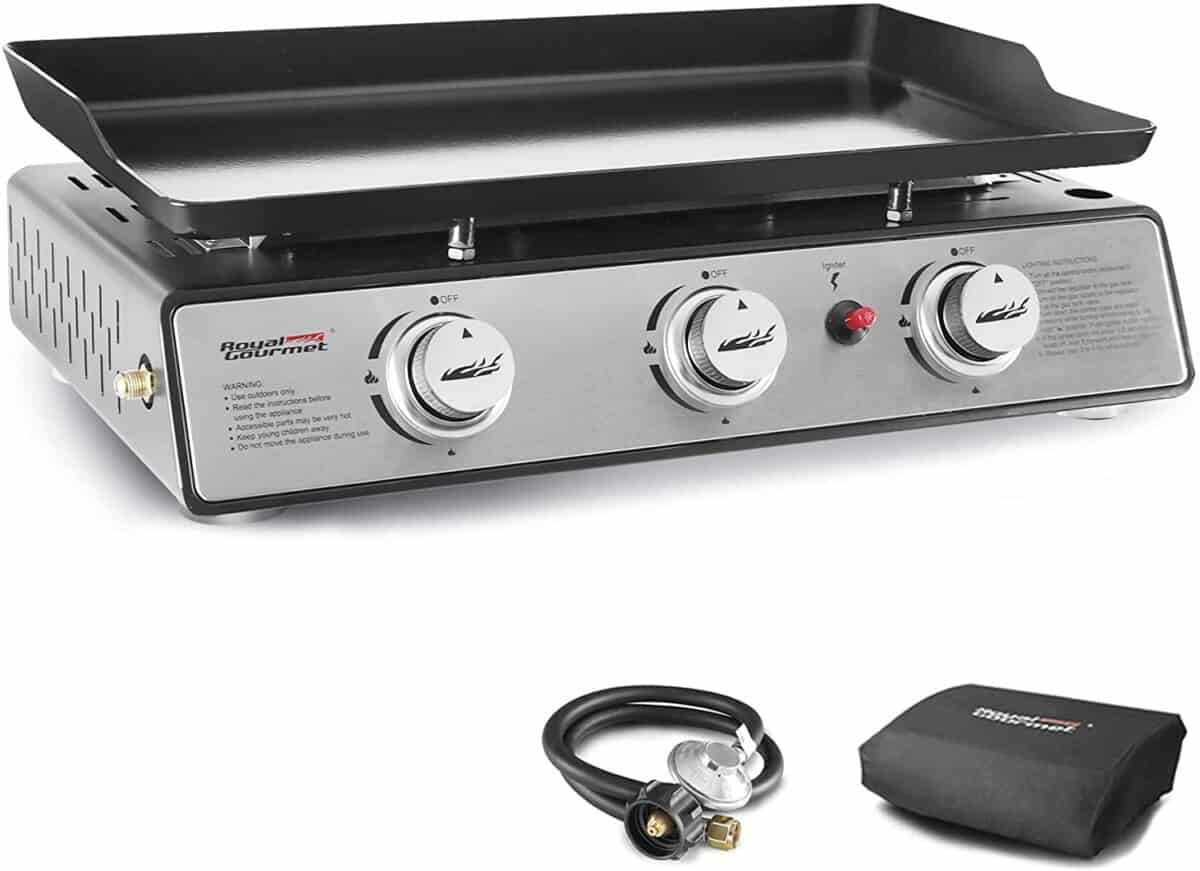 Royal Gourmet is a popular grill manufacturer that is serving buyers around the world from past several years with top-notch outdoor grills and essential accessories as well. One of the best products launched by the same brand is Royal Gourmet Portable Gas Griddle, Table Top Grill.
This heavy-duty metal frame grill is designed to ensure rugged appearance with intelligent cooking features. Furthermore, the stability bars and sturdy legs of this unit make it easier to handle for perfect balance. It can withstand movements during grilling. You can see the control panel for this grill is finished using stainless steel material whereas the legs and shelves have powdered coated finish.
Description of Royal Gourmet Portable Grill
This versatile gas stove possesses wide cooking surface of 238 square inches, and the portable griddle ensures easy cooking experience. Royal Gourmet Portable Gas Griddle can help you to prepare delicious breakfast, lunch, and dinner as well.
Each burner of this grill offers 8500 BTU leading to a total range of 17000 BTU. As a result you can use this grill with two different cooking zone adjustments. Moreover, the handy grease cup design ensures easy cleaning and healthy cooking as well.
Royal Gourmet Portable Grill becomes easier to use with its simple electric push-button type ignitor. Also, the stainless-steel burner with thick cooktop having steel coating makes it more valuable routine needs at home.
This product also includes a specially designed regulator for 1lb tank. The two control knobs of this gas are made up of stainless steel material and each burden is connected to a piezo ignition system.
What are Main Features of Royal Gourmet Portable Gas Grill?
Watch this short but useful review video about Royal Gourmet Portable Gas Grill to know if this grill fits you:
You can find here a list with 7 main features of this grill. I hope this helps you decide whether or not to buy this grill.
238 square inch surface that ensures the easy cooking experience with portable griddle
Designed with two independent 8500 BTU that can be adjusted separately for each burden leading to total 17000 BTU range
Finished with a lift-off cooktop along with built-in drawer type grease cup design
Stainless steel material ensures easy cleaning with warm soapy water and paper towel
Electric push button ignitors for efficient operation
Comes also with a regulator for 1lb tank
Thick steel coated, easy to clean cooktop with grade stainless steel control panel