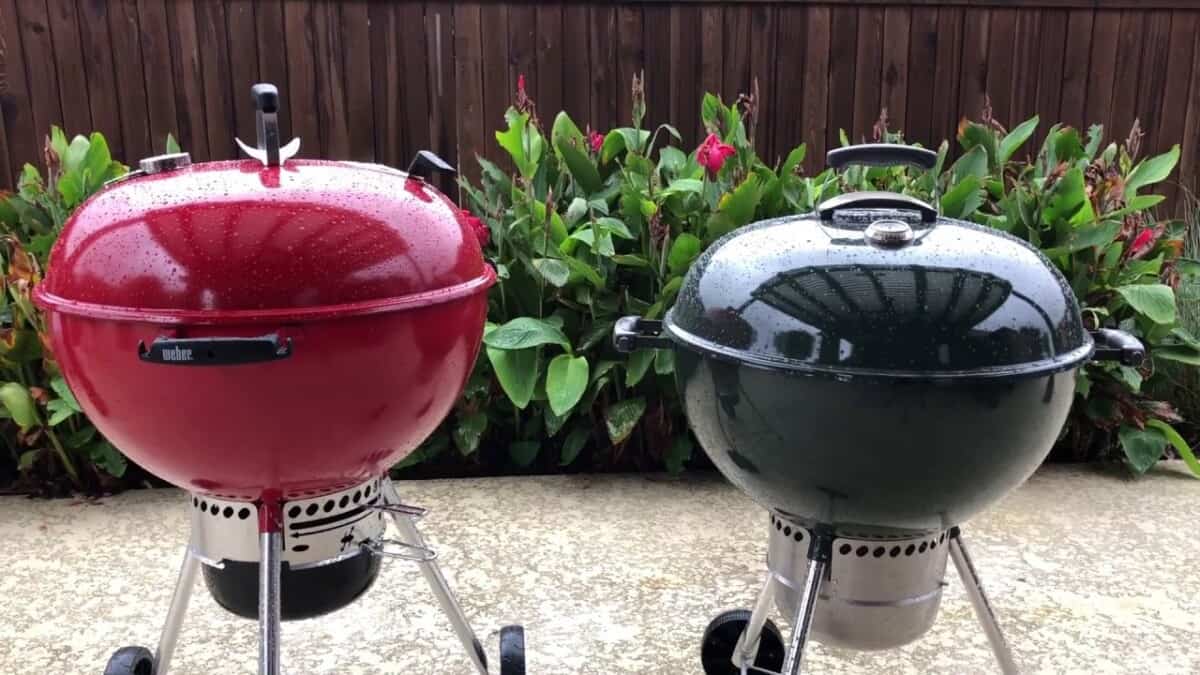 Weber Original Kettle Premium Charcoal Grill is one of the smallest units in the list of original kettle series. This grill is designed with maximum 22 inches cooking space with 18" x 26" x 37" dimensions.
The steel plate cooking grid of this premium charcoal grill is hinged on both sides so that users can easily move the charcoal in the space to enjoy professional-like cooking experience. So there is no need to lift the grill off to add more charcoal into this space.
The bowl, as well as lid of Weber Original Kettle Premium Charcoal Grill, is designed with porcelain enameled material that ensures higher durability. The enamel can be baked up to 1500-degree F that easily fuses to steel so that you can prevent rust and damage due to burning with ease.
Moreover, the angled lid ensures easy and safe handling. The handles on the side are made up of glass-reinforced nylon, and the lid handle is protected with a specially designed heat shield that ensures added safety.
You will be also happy to hear that the rust-proof aluminum dampers ensure easy to control on the heating mechanism. Also simple rotation can help to alter the oxygen level for efficient heat adjustment that ensures a better result for cooking.
Moreover, the in-built thermometer provides proper updates about the temperature inside so that you can decide when to add more charcoal inside.
Also, professionals at Weber have also added a once touch type ash collection system to this unit that allows easy cleaning. The ash can be added into the heatproof aluminum bowl to ensure easy disposal. The sturdy and durable legs of this Weber Charcoal Grill allow firm placement on rough surfaces as well.
Watch this short but useful review video about Weber Premium Kettle Charcoal Grill to know if this grill fits you:
You can find here a list with 8 main features of this grill. I hope this helps you decide whether or not to buy this grill.
Comes with large 22 inches cooking area.
Porcelain-enameled bowl and lid along with angled lid hooks.
Handles are made up of glass-reinforced nylon.
The lid handle is finished with a specialized heat shield.
This grill comes with a built-in thermometer.
It has spring-loaded pins on all legs.
Loaded with one touch type, easy to handle ash collection system.
Also plated steel hinged wide cooking grate.